Quickie 2 HP Ultralight Wheelchair
Quickie 2 HP Ultralight Wheelchair
DESCRIPTION
The Quickie 2 High Performance (HP) wheelchair uses the same modular folding frame as the Quickie 2 and offers many of the same advantages - Quickie's True-Fit Program, the "lock-out" cross brace and a solid, stable feel.
Though the Quickie 2 HP is a much more sportier version for the most active users. It has a fixed front-end with a flip-up footrest instead of the swing away detachable hanger style. The Quickie 2 HP also comes standard with titanium hardware that's super strong and extremely light - weighing in at only 22 pounds.
The Quickie 2 is customized to your individual angles and measurements. Like the Quickie 2 and Quickie 2 Lite, the Quickie 2 HP benefits from its modularity in the components, if your needs change - only select the components that need to be switched out. Choose from a vast number of configuration options - many at no additional cost.
If you're looking for lightweight folding performance with multiple options, the Quickie 2 High Performance (HP) is a great place to start.
---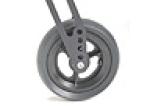 Fine Tune Adjustments
The Quickie 2 HP now features a new offset axle plate, multi-adjustable caster fork and expanded caster housing. These new features double the number of seat-to-floor height adjustments possible on the chair and they also allow for a deeper seat angle.
---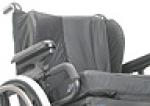 JAY Precision Back
The JAY Precision Back features unilateral adjustments straps, backpost mounted laterals and multi-position adjustment hardware. For users who want lateral stability and adjustable contouring without all the fuss of a removable solid back, the JAY Precision Back is the perfect solution.
---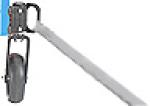 Transit Option up to 350 pounds
The Quickie 2 HP now offers a transit option for users up to 350 pounds. For adult and heavy pediatric users who must stay in their chairs during transportation, the new transit option is the perfect solution. The Stabilizer bar comes standard when the transit option is ordered.
---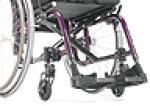 Fixed Front Frame
The Quickie 2 HP comes standard with either a 60 or 70 front frame. Its fixed front-frame construction gives the Quickie 2 HP the type of performance found in most high performance chairs.