Quickie LX Lightweight Wheelchair
Quickie LX Lightweight Wheelchair
DESCRIPTION
The Quickie LX is a lightweight folding manual wheelchair, which offers many features and options to accommodate a wide range of needs. Offers flip-back armrests, adjustable back height and awesome black components. Complete range of hanger, footplate, armrest and caster options with a lifetime warranty on the frame.
The Quickie LX supports some of the most exciting wheels in today's wheelchair market. For pure performance, consider the Spinergy SPOX and LX wheels in 22", 24", 25", and 26" sizes. For more outdoor pursuits, both 24" and 26" mountain wheels are now available. When it comes to handrims, the choices are dazzling: Natural Fit and Natural Fit LT with standard grip rim, super grip rim, and no thumb grip rim; standard anodized aluminum rim; plastic coated rim; and 8 oblique and 8 vertical projection hand rims! Whether you are looking for high performance or quad assistance, the LX offers a full range.
Nothing turns heads like a great custom color. The LX takes custom colored frames to a new level. For example: the Quickie LXI offers six different camouflage colors. Over half match current or recent US military uniform patterns.
---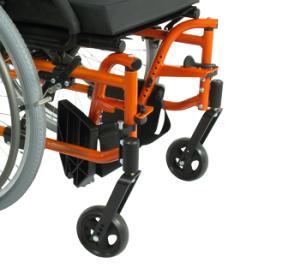 Compatibility
The Quickie LX features many of the same swing/out footrests, legrests, footplates, rear wheels, casters, backrests, and accessories as the other members of the Quickie ultra lightweight folding family. This commonality helps dealers reduce inventories and easily interchange parts when required.
---
Options
The revamped Quickie LX is filled with a host of hot new options. A few of the more unique include: transit option, Spinergy wheels, mountain wheels, camouflage frame colors, Case Logic side pockets, Natural Fit handrims, and military service patches.
---
Simple
The simplified LX gives you the customization, options, and frame colors of a Quickie wheelchair in a high strength, wheelchair package.