Quickie M6 Heavy Duty Wheelchair
Quickie M6 Heavy Duty Wheelchair
DESCRIPTION
Quickie M6 Heavy Duty wheelchair is a custom bariatric wheelchair modeled from the design of the popular Quickie 2 with a weight capacity of 650 pounds. It is made of high strength steel and weighs approximately 53 pounds; a length and width of 26 x 20" with pneumatic rear wheels and footrest hangers.
Theres a lot to like about the Quickie M6: A folding frame. Easy storage and transport. Modular frame construction. Interchangeable frame components that allow you to grow and change the chairs width and depth. Maximum option choices allow the Quickie M6 to be built to your specifications.
The M6 utilizes a double locking cross brace and stabilizer bar to minimize frame flex and create a more rigid ride quality. This ensures that more energy transfers directly from your arms or feet to the axles for the most efficient propulsion.
The adjustable back height ensures optimal positioning of backrest for stability and scapular movement. Multiple footplate options ensure optimal positioning of lower extremities. Quick-release axle allows quick removal of rear wheels for easy transport.
Other advantages of the Quickie M6 - The adjustable axle plate allows adjustments to help maximize stability and propulsion of the chair. Center of gravity adjustments can be made for a more efficient ride. The rear frame height can be adjusted when it's necessary to change the caster wheels.
So if youre looking for a heavy duty version of the most popular Quickie on the market, look no further than the Quickie M6 Heavy Duty.
---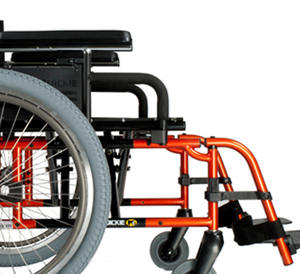 Modular, High-Strength Frame
The M6's modular frame, modeled after the industry favorite Quickie 2, features high strength steel for increased wheelchair durability. Its interchangeable, heavy duty components accommodate changing conditions with simple parts replacements.
---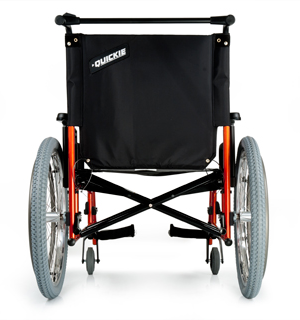 Locking Stabilizing Cross Bar
Quickie M6 comes equipped for durability and stability. Locking cross member provides added rigid support; unlocks easily for folding the wheelchair.