Quickie All Court Sport Wheelchair
Quickie All Court Sport Wheelchair
DESCRIPTION
Designed with the help of Sunrise Medical's elite wheelchair basketball athletes, the Quickie All Court wheelchair establishes a new standard in performance and style. Using our patented center-of-mass adjustment feature, the All Court adjusts to match each user's unique center-of gravity and seat-angle requirements - all without swapping a single part. This, along with a new series of options, makes the Quickie All Court the perfect chair for both the recreational and the elite athlete.
The Quickie All Court now features special extra-hard caster wheels (92 durometer hardness). The new casters ensure that chair speed and maneuverability are not simply absorbed in the wheels. Extreme camber options of 16&de4g; and 20 offer superior stability and effortless turning.
The new ratchet-style positioning belt was inspired by a prototype developed by one of our own athletes. This belt features two sets of locking ratchet-clamps similar to those used in snowboard bindings. These ratchet-clamps allow the tightest possible connection to the chair. The stronger the connection, the easier upper-body movements transfer into chair movement.
The revised version of the Quickie All Court now offers a 1/2 sized seat pan. Because the wheelchair basketball association does not allow seat-to-floor heights greater than 53 cm, it is critical that any sag in the rear seat sling is eliminated. This is why centers and other players who need to maintain maximum chair-height, request this option.
The Quickie All Court now features smaller seat depths (10", 11" and 12") and smaller seat widths (12"). These new sizes open the door to young aspiring wheelchair athletes.
---
Center-Of-Mass Adjustment System
Sunrise Medical's patented center-of-mass adjustment system provides a maximum horizontal (center-of-gravity) adjustment-range of 3.5" and up to 5" of vertical seat-squeeze (or seat dump) adjustment. This combination of adjustment-systems allows users to align their weight over the push-wheels and optimize their seat angles without making changes in fork size, caster size, caster-stem size, or fork-hole location.
---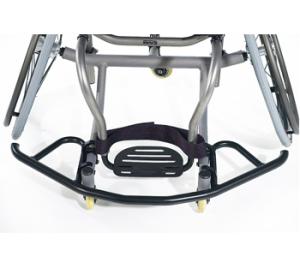 Single-Wing Bumper
The Quickie All Court's single-wing bumper has undergone a redesign. The new bumper is lighter, leaner, and better positioned to match today's more aggressive fast-paced game.
---
5th Wheel Anti-Tip
The Quickie All Court features single (standard) or dual (optional) integrated fifth-wheel anti-tip(s). These anti-tip caster(s) allow players to move their weight directly over the rear wheels, providing a tremendous advantage in maneuverability and power.
---
Anti-Tip Brace
The 5th wheel anti-tip brace is a new option featured on the Quickie All Court. This adjustable brace, located between the backrest towel bar and the integrated anti-tip, eliminates the rearward flex in the seat frame caused when the player leans backwards. With this option, the player no longer has to adjust to the flex in the seat when leaning back to shoot over a defender.